Roles & Permissions [videos]
Each user can be assigned a role. Roles can be customized to include any permissions you choose. Permissions are what levels of access a user has, such as access to account settings or sending a proposal. Only the Account owner & Admins can set up roles. This is meant to keep them safe.
 Creating Roles
The account owner can go to Settings > Roles to set up all of the user roles: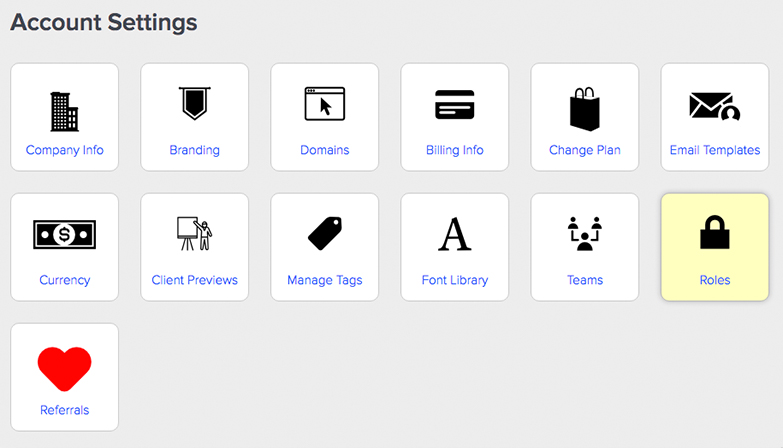 From here you can edit an existing role, or create a new role by clicking "New Role" 
You can give the role a unique name and assign permissions for everyone with this role. By default, all of the permissions will be checked 'on', unless you manually uncheck them. 
After setting permissions, click 'Save Role' to save this as a role type
Setting general permissions in Roles, are setting the user's ability to edit Account Settings, and levels of viewing/editing Metrics and Clients.
Setting content library permissions are setting the user's ability to Add, Edit, and Delete the following items from the content library:
Sections (the default/master versions of sections)
Fees (re-useable fees)
Snippets (re-usable text)
Images (re-useable images/logos)
Setting template permissions are setting the user's ability to view all the templates in the system, or only their teams plus the user's ability to add, edit or delete templates.
Setting proposal permissions are setting which proposals the user can view (all, their team's only, or only their own), and what actions they can do with the proposals.
When creating roles, you have option to enable send permissions. Send permissions include:
Require approval before sending
Edit preview settings
Send reminders
Require Approval Before Sending
If this option is checked, any user in this role will require approval from another user (such as a manager) before the proposal can be sent.
In the proposal editor, when this user clicks 'Send' or 'Request Approval' they will need to select a user to notify and approve the proposal before it is sent to the client.
The manager selected will receive an email with a link to view the proposal. After reviewing the proposal, they can click "Approve" to approve the proposal or "Reject" to not approve the proposal.
An email will automatically be sent back to the proposal's creator, who can then send it to the client if approved, or make edits if the proposal is not approved.
Edit Preview Settings
If this option is checked, users in this role will have the ability to edit the preview settings, and to adjust how the client will view the proposal.
Preview settings include turning on or off the following:
Show accept/decline buttons
Allow comments
Show total in footer of proposal
Password protect proposal
Show 'Powered by Proposify' logo
Language Settings
To access the preview settings, go to the Proposal Snapshot page and click the Preview button. From there, select Edit Preview Settings at the top of the page.
Send Reminders
If this option is checked, the users in this role will have the option to send the client a reminder email to view the proposal. A reminder email can be set up at the bottom of the Send screen, or in Settings > Email Templates